Breaker Switch Unit with Encapsulated Vacuum Interrupter
Each 33kv automatic circuit recloser is embedded in a solid-insulated pole made of weather-proof cyclo aliphatic epoxy resin. This enables a small design as well as resistance against environmental effects.
The switch unit in vacuum type circuit breaker is comprised of three poles, the operating mechanism, and the operating mechanism housing. The sequence of the poles is A -B – C or 1 – 2 - 3 (sequence left to right when viewed from the lower terminal side of the recloser switch unit.
Drawing of 36KV Vacuum Circuit Breaker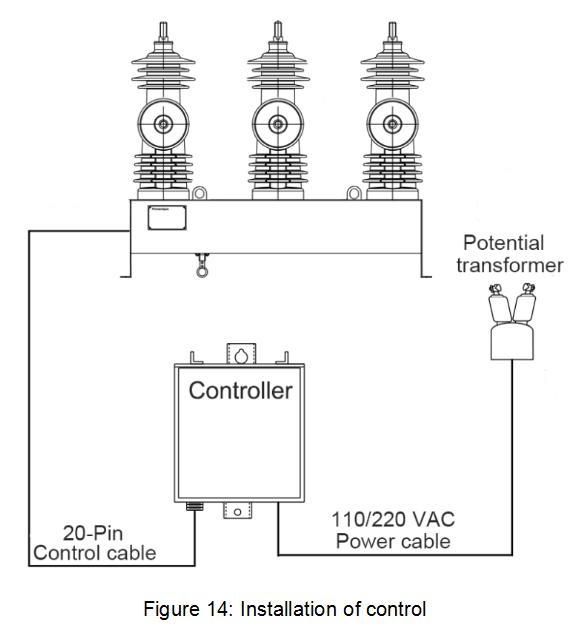 Breaker Principle and Design of 36KV Vacuum Circuit Breaker
ZW32 series 33KV circuit breakers are used in distribution systems to make and break normal and fault currents. 33kv outdoor circuit breakers made by our electric power equipment company are fully equipped with sensors and a controller to provide a means of protection and control. In case of a line fault, 33kv vacuum circuit breaker can break and make currents several times, thus avoiding longer network interruptions due to temporary faults. The manufacture, design, and testing of the vacuum recloser is based on current standards IEC 62271-100.
Technical parameters of 33KV Vacuum Circuit Breaker
The 33kv vacuum circuit breaker specifications are as follows.
Table 1-Circuit Breaker Rated Technical Data
No.

Name

Unit

Parameter

1

Rated voltage

kV

36

2

1 min rated power frequency withstand voltage

70

3

Rated lightning impulse withstand voltage (peak)

170

4

Rated current

A

630

5

Rated frequency

Hz

50/60

6

Rated short-circuit breaking current

kA

12.5

7

Rated short-circuit making a current (peak)

31.5

8

Rated peak withstand current

31.5

9

Rated short-time withstand current (4s)

kA

12.5

10

Rated operating sequence




O-0.3s-CO-180s-CO

11

Closing time

ms

25-60

12

Opening time

18-45

13

Breaking times for rated short-circuit breaking current

times

30

14

Mechanical life

10000

15

Secondary circuit 1min power frequency withstand voltage

V

2000

16

Charging motor rated power

W

40

17

Charging motor rated voltage

V

DC24

18

Rated closing operation voltage

DC24

19

Rated opening operation voltage

DC24

20

Motor charging time

s

≤12

21

Weight

Circuit breaker

kg

130

A circuit breaker with dis-connector

165
Table 2 - Main Mechanical Characteristics of Circuit Breaker
No.

Name

Unit

Parameter

1

Contact travel

mm

12-14

2

Contact over-travel

2-4

3

Phase Distance (Center to Center)

410±2

4

Contact closing bounce time

ms

≤3

5

Three-phase open/close synchronism

≤2

6

Average opening speed

m/s

1.2-1.6

7

Average closing speed

0.6-1.0

8

Resistance of the main circuit

μΩ

≤200



Table 3 – Main Technical Data of Dis-connector
No.

Name

Unit

Parameter

1

Rated voltage

kV

36

2

Rated current

A

630

3

Frequency

Hz

50/60

4

Short-time withstand current (4s)

kA

12.5

5

Rated peak withstand current

31.5

6

1min power frequency withstand voltage

Across open contacts

kV




70

7

Circuit resistance

μΩ

≤120

8

Center deviation value of three-phase insulating closing

mm

≤2

9

Synchronism deviation value of three-phase insulator open/close

≤2

10

Insulating distance between conductor to earth

≥300

11

Contact travel

≥260
Table 4 – Operating Mechanism Characteristics
No.

Name

Unit

Parameter

No.

1







Opening coil




DC24

7

Reliable tripping under 65%-120% rated voltage, no tripping less than 30% rated voltage

DC110

5

AC220

3.5

DC220

1.8

2




Closing coil

DC24

7

Reliable tripping under65%-120% rated voltage

AC220

3.5

DC220

1.8

3

Overcurrent tripping coil




8




4

Energy charging motor

Rated voltage: DC/AC220V

Rated power: 40W

Reliable tripping under85%-110% rated voltage

5

Closing spring charging time

≤10s